CFO says to CEO "What happens if we invest in our people, and they leave?" CEO says to CFO "What happens if we don't, and they stay…"
Every day for 10 years on my bike ride to and from work, I saw this slogan painted on the window of a leadership development company near my office. Its message is constant – it was just as relevant 12 years ago as it is today.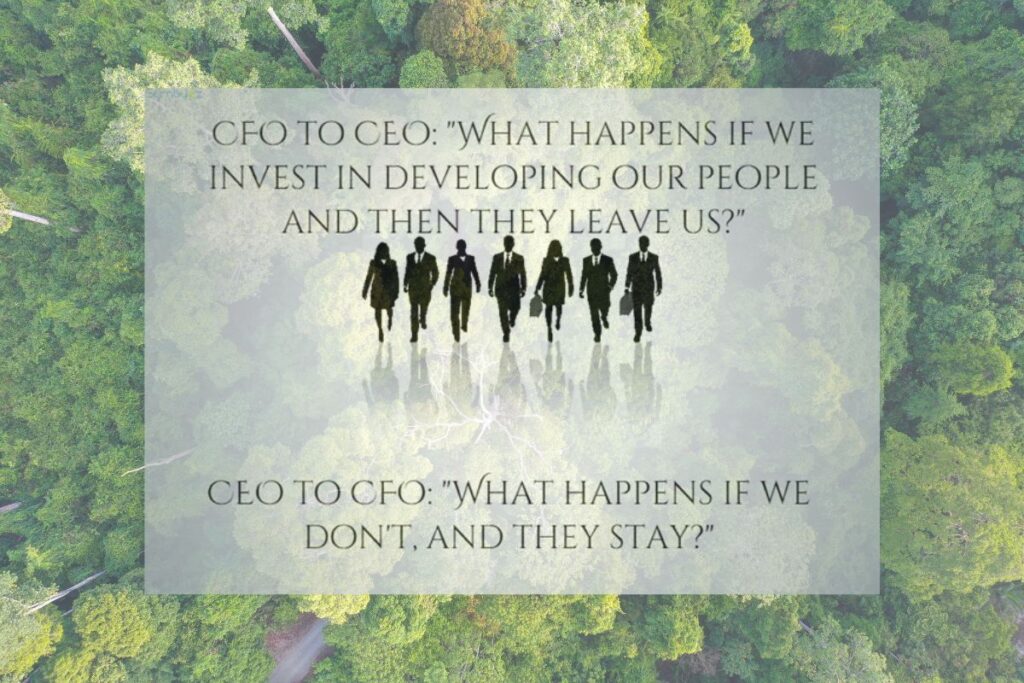 But what about the CEO's themselves? The business world of today is extremely dynamic and if business leaders are not equipped to grow and pivot within the context of the operations they are responsible for, the resilience of that business is severely at risk. Not to mention the example being portrayed to the team depending on them for guidance.
In this article, I narrow the magnifying glass to CEOs of forest companies in the tropics. At the ForestLink, my aim is to attract more private capital to impactful forest businesses in the tropics. I focus my work where impact creation, meets risk reduction, meets value generation.
A significant gap I've observed in the past twelve years of working in the sector is the lack of opportunity for leadership growth – and filling this gap will hit all three performance metrics. Impact is created through providing access to professional development and motivating leadership. An impact that will snowball down to the rest of the team. Risk reduction is achieved through providing leaders with the skills to grow the business and transition it through different stages. Often a risk mitigation mechanism for "management risk" is having a strong succession plan in place or hiring a well-skilled exec. What if management is so motivated, you don't need to worry about them leaving? What about building the skill-set of the leadership you already have? Don't these seem like more painless and efficient options? Value is generated by having a CEO who can navigate the dynamic business environment of an operational forest company. Giving leaders the tools to set and evolve strategy, explore opportunities, and avoid distractions dressed up like opportunities will give the company the north star it needs to guide it to and enhance profitability.
But to understand how this is possible, let's explore the context in which forest companies in the tropics operate.
The Challenging Context of forest companies in the tropics
It doesn't take a forester to know that forest operations are not taking place in urban metropolises. Nor does it take an emerging markets expert to visualize a rural forest operation in a developing country. Let me leave you with that for a moment.
Isolation – the promise of forest business in the tropics
Forest businesses in the tropics are characterized by two types of isolation – Physical and Interpersonal. Operations are often hours from a capital city. They may require planes, boats, and washed-out dirt roads to access them. A fortunate forest business is only a couple hours drive along a tarmac road to a market hub – but these businesses are less common. In part due to remoteness, and in part due to the niche characteristics of this business type, this can be a lonely work environment. Peers and colleagues are few and far between. Isolation is the driver of several other challenges.
CEO attraction
Attraction of other key talent
Keeping leadership and key talent
Several logistical challenges to overcome – transport of goods and access to services, physical access to markets
Realistic investor expectations
Access to exchange knowledge with peers and experts
Cultural Norms at odds with Investor Expectations
In most of the investments I have engaged with in the tropics, the scenario is that the investors setting the strategy and code of conduct is sitting somewhere in the developed world, with the assets located thousands of kilometers away. There is a significant disconnect between investor requirements and the cultural context in which most forest companies in the tropics are located. Company executives are required to meet shareholder demands, while also operate in areas prone to corruption, human rights issues, and blurred tenure and governance systems. Further, it takes time and patience for expat CEOs (as they often are) to become familiar with the nuances of the local culture in which the forest business is situated – and can lead to frustration and mistakes in stakeholder engagement.
Characteristics of a Forest Company Executive in the Tropics
Through working with several forest companies in the tropics, I have observed some trends in the characteristics of their leaders. They are often talented expat foresters or ambitious entrepreneurs, driven by the possibilities of emerging markets that just don't exist in realized and highly prescriptive well-developed markets. These executives are attracted by the opportunity to create a thriving forest business from the ground up, and/or bring solutions to complex challenges.
These ideals are put to the test time and again by the previously mentioned tug-o-war that exists between meeting investor expectations and working with the realities on the ground. They are stretched to manage not only growing a forest, but to avoid corruption, hire/train/maintain a local workforce, build markets, manage stakeholder relationships and put out all the other literal and figurative fires that arise. And they are largely responsible for doing this alone.
As a result, these executives either move on to where the grass appears to be greener, or they stay – but with limited opportunity to enhance the business to its full potential because they are being stretched in so many directions.
Limited Opportunities for Growth
There are real challenges in attracting private capital to forest investments in the tropics. A couple of years ago, I co-authored the OFAC State of the Forests 2021, chapter on forest plantations – highlighting one of the biggest challenges as a lack of success stories in forest businesses in these regions. The report concurs "Effective high-quality staff training is one of the single most important hallmarks of a successful project."
Yet investing into developing the executives leading these businesses has been grossly ignored.
Sure, there are technical working groups or knowledge exchange events that companies are involved in, that absolutely help to resolve operational challenges – such as propagation of high-quality genetic planting material, and forest certification study tours for example. I have participated in such events and have found them to be extremely valuable, but I've also observed the following:
Content and discussions are highly technical and operationally focused. Of course this serves the purpose of the gathering, and results in important learning, but it allows for participants to optimize a piece of their business, missing out on the larger picture of creating a long-term sustainable business.
Peer-to-Peer connections are often tainted by competition. This results when conversations remain shallow at industry events. Participants are careful not to share too much in the small niche that brings them together. Wins are politely boasted, without sharing the challenges and how these are overcome. Success is achieved and failures are endured in secret, and no one learns from each other.
What is missing from these professional development gatherings is a focus on how to achieve big picture results. Isolated executives need deeper peer-to-peer conversations, where competition is excluded and the opportunity to learn from each other presents itself. Technical skill development is missing on key contributors to business success, such as strategy setting, negotiation, and human resources – to name but a few.
Growth for Forest Executives, Growth for Forest Businesses
The ForestLink is launching The Forum for Forest Executives, in the spring of 2023 to lift and connect leadership, reduce business risk, and create more forest investment success stories in the tropics.
Participating executives in the Forum will be joined by 8-12 executives leading forest businesses in the tropics. Over the course of 3 days in the Spring of 2023, you will experience a professional development platform like no other. You will connect with like-minded executives in an honest, experience-rich, and collaborative peer-to-peer learning event.
Highlights of the Forum include:
Curated group to eliminate competition and foster open dialogue,
Participants blended across business stage, end markets, and global tropical geographies to ensure rich and diverse discussions,
Plenty of social time to move from peers to colleagues,
Dive deep on specialist topics not found in typical forest working groups or conferences,
Executive coaching from a trained professional,
Out-of-the box industry tour.  
The Forum will be facilitated by myself, will include peer-to-peer learning led by an executive coach, and specialist training from experts on topics relevant for both your professional development and the success of your business.
Register your interest now to learn more and keep informed on when the application window opens or send this on to a forest executive you think would benefit from the Forum.