At the end of last year, I published an article about credible offset solutions for individuals and small businesses. As the world slowly started to awake from its Covid slumber, it felt like the appropriate time to look into the ways which we can offset our personal carbon footprint, either when travelling or in our day-to-day lives. We all have a collective responsibility to tackle climate change, and as we approach the summer holidays, now seems a good time to turn the focus of our attention to the tourism industry.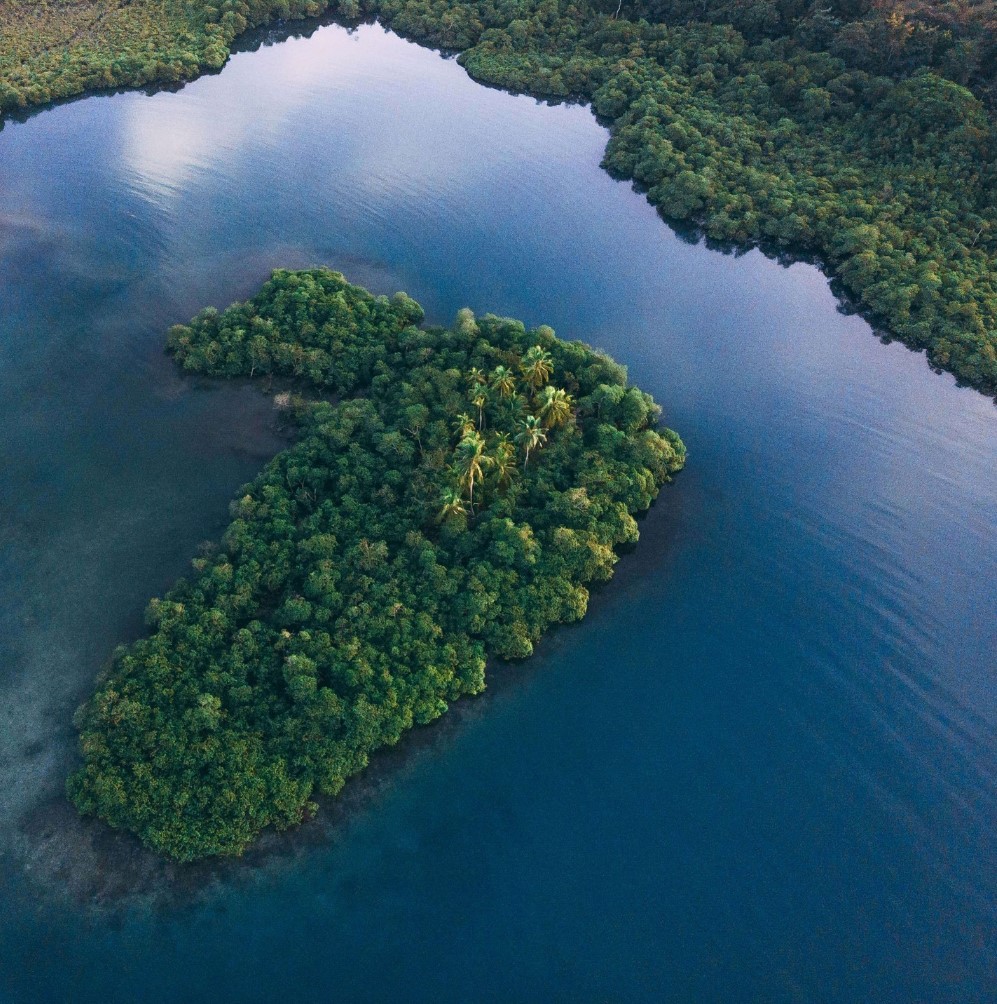 This article provides an overview of a recent joint report by Regenerative Travel, and Solimar International & the University of Edinburgh, highlighting how several businesses within the tourism sector have implemented Nature-based Solutions (NBS) and regenerative practices into their daily business operations to help tackle climate change. You can download the full guide here.
Travel businesses—even those that are small—can unlock the power of regenerative climate action.
The tourism industry is the second fastest growing industry in the world, and accounts for 10% of jobs globally and 8% of global greenhouse gas emissions. Without accelerating decarbonization, greenhouse gas emissions are expected to rise 25% or more by 2030 in the tourism sector, compared to 2016. As with the forest operations in the tropics I engage, much of the tourism industry operates in and relies on vulnerable ecosystems and communities, the sector must take a leading role in climate action.
5 Principles for developing Nature-based solutions in the tourism industry
The report highlights 30 businesses within the tourism industry that have embraced Nature-based Solutions (NBS) – actions that manage, protect & restore nature, and regenerative practices, as part of a commitment to tackling climate change.
During their research, the authors identified five principles which are essential for developing NBS within the tourism sector. These principles are laid out below:
Principle:
Key Actions:
Centre Community Needs First
1. Understand and document societal challenges, prioritizing the most pressing needs for community stakeholders.
2. Adopt a living systems approach that recognizes complex interactions between the economy, society, and ecosystems within the destination.
3. Document changes and trade-offs in human well-being outcomes resulting from tourism interventions.
Improve Ecosystem Integrity & Biodiversity
1. Monitor ecosystem changes over time and adapt as needed.
2. View tourism as a tool to finance and facilitate ecosystem restoration and protection.
3. Engage residents, visitors, and employees in ecosystem and biodiversity work through educational opportunities, citizen science, and sharing lessons learned.
Embrace Diverse and Inclusive Business Models
1. Improve the viability of your business and Nature-based Solution by diversifying revenue streams.
2. Retain and support talent through enhanced training and employment opportunities.
3. Embrace inclusivity and diversity in partnerships, employment, and marketing strategies
Develop Transparent Governance Structures Accountable to All Stakeholders
1. Continuously engage stakeholders and establish processes for soliciting and incorporating community feedback.
2. Respect and uphold indigenous and community rights to land and resources.
3. Ensure communities have access to vital natural and cultural assets.
Enhance Regenerative Partnerships
1. Be a bridge between communities and government to enhance social and ecological regeneration.
2. Partner with NGOs and government to inform management, monitoring, and reporting. Contribute to national and global targets for human wellbeing, climate change, biodiversity, and human rights to scale best practices out and up.
Climate Action through Regeneration: Unlocking the Power of Communities and Nature through Tourism
COP 26 & The Tourism Industry
In 2021, The Glasgow Declaration on Climate Action in Tourism was launched at COP26. The declaration is committed to uniting stakeholders within the tourism sector to deliver effective climate action and become an industry leader in transforming to a low-carbon future, prioritising community and ecosystem wellbeing.
The Glasgow Declaration identified five shared pathways for the tourism industry to ensure that climate actions are aligned across the sector. These are: Measure, Decarbonise, Collaborate, Refinance & Regenerate.
The fifth pathway, Regenerate, forms the inspiration and focus of this report.
With 80% of the travel sector made up of SMEs, The Regenerative Report acts as a guide for these businesses; to assist them in their quest to measure and mitigate climate emissions. The tourism industry has an important role to play in protecting the natural environments & communities in which it operates. As much of tourism is based in regions vulnerable to climate change, it's imperative that the sector plays a role in mitigating carbon emissions and help the local communities (upon which they rely) to adapt and build resilience against future risks.
The main aim of the report is to demonstrate how small businesses can have a positive impact on climate change by adopting NBS.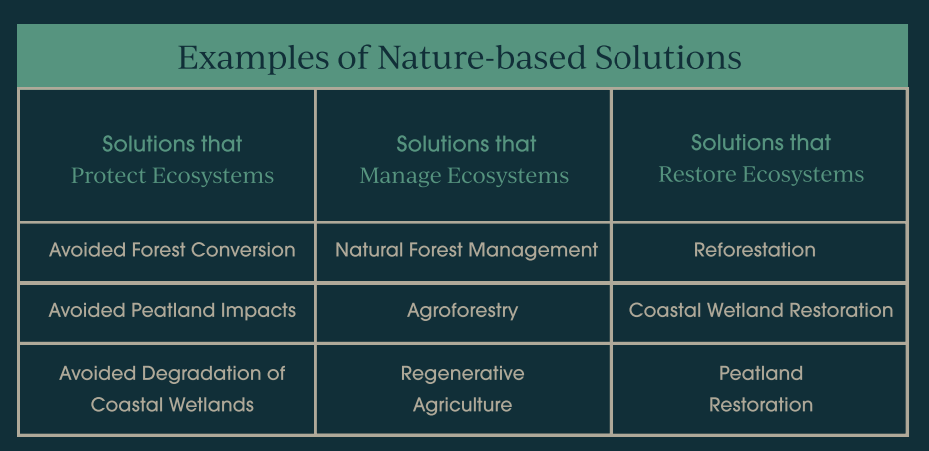 The report Identifies projects, initiatives, and programs that serve as Nature-based Solutions and hope to act as a guide for other small businesses who would like to implement such practices. For example,
Biodiversity and carbon financing linked to NbS could be a key strategy for tourism businesses as they seek diversified and sustainable funding. NbS can also serve as localized carbon offsets that enable tourism businesses to decrease their net impacts while they implement changes required for direct reductions, or to compensate for unavoidable emissions.
NbS can serve as part of travel businesses' adaptation strategies for climate vulnerabilities—for example, restoring mangroves or planting living coral walls could provide a hotel future protection against storm surges.
NbS can serve as nodes of collaboration between travel businesses and destinations.
However, the sector will require significant investment if it is to succeed in its aim to support climate action. Global investments in NbS surpassed $133 billion in 2020—only 14% of which came from private finance. According to the United Nations Environment Programme (UNEP), investment must at least triple to meet global climate and sustainability goals.
Spotlight on Principle 2 – Improve Ecosystem Integrity and Biodiversity
In line with the ForestLink's commitment to developing credible forest carbon projects in the tropics, we have focused our attention on those businesses in the report which are committed to principle 2 outlined above – Improve Ecosystem Integrity & Biodiversity.
This principle emphasises the importance of a dedicated focus on investing in and protecting the delicate ecosystems on which much of tourism depends. 'Pro-biodiversity' encourages businesses to measure the environmental impact of their businesses – through data collection and certification such as the Global Sustainable Tourism Council (GSTC), Green Destinations, B Corp, or Earth Check – and invest in the restoration and long-term protection of the environment.
Partnerships with community groups, NGOs, government agencies, or partner universities can enable rigorous and sustainable monitoring efforts that are rooted in local context.
Examples of tourism businesses engaging in biodiversity protection and improvement are shown in the case studies below:
Business
Overview
Tranquilo Bay Eco Adventure Lodge, Panama
1. Hotel Tranquilo Bay exists to help conserve and regenerate the biodiversity of the Bocas del Toro archipelago on Panama's Caribbean coast, increasing ecosystem connectivity over time. The property's multi-pronged business model is structured to provide the resources needed to grow the amount of land under direct management by the hotel from 19 to 200 acres.
2. The team has also helped the local indigenous community create an over 500-acre municipal reserve that serves as a buffer zone to the national marine park.
3. Bastimentos National Marine Park protects around 4,000 acres of land and 29,000 acres of Carribean Sea.
4. The Tranquilo Bay staff collaborate with national and international agencies to better understand and preserve the region's unique flora and fauna.
5. Recent efforts to monitor the hotel's social and environmental impacts have revealed that 89% of its profits stay within Panama, and 60% in Bocas del Toro Province where it is located.
The Datai Langkawi, Malaysia
1. In September 2020, The Datai Langkawi established The Datai Pledge as a Private Trust. The vision and mission for the Trust was the Trust's four core pillars—business operations, land, sea, and youth— informed by an assessment of business impacts on the surrounding environment and community.
2. A local NGO partner was identified as the key collaborator for each of the pillars.
3. The Datai Pledge has already begun work on coral restoration, reforestation, turtle conservation, cetacean research, habitat restoration, and recycling, plus youth education and visitor engagement in these initiatives.
4. Importantly, the sister NGOs work together with the resort to inform wider policy frameworks and sustainable certification programs, scaling the work out to the surrounding community and up through transformational policy changes developed by the resort's team of naturalists, marine biologists, and sustainability practitioners.
5. The Fund is supported by revenue from guest stays and guest donations—since its inception 96% of guests have contributed to the program.
Nikoi Private Island, Indonesia
1. Two thirds of Nikoi Island, located in the South China Sea off the cost of Bintan, Indonesia, is covered in virgin rainforest, and the coral reef surrounding the island is rich in marine life.
2. In response to national initiatives to increase Marine Protected Areas (MPAs) across Indonesia, Nikoi Island spearheaded the work that resulted in a 138,000 hectare Marine Protected Area, which was formally gazetted by the Governor of the Riau Province in 2022.
3. Nikoi's work was pivotal in achieving MPA status and created a foundational framework to support long-term monitoring and protection. Together with external donors, Nikoi funded a detailed survey and financed a specialist marine conservation foundation called Yayasan Ecology.
4. Nikoi Private Island's strengths as a locally-based operator have been well-leveraged so that, in partnership with the local community, they can together provide the resources and time required to manage an effective MPA.
5. With support from Conservation International and Yayasan Ecology, local stakeholders were consulted, and a management plan prepared. This was a first for the area and can provide a template for other proposed neighboring MPAs.
Climate Action through Regeneration: Unlocking the Power of Communities and Nature through Tourism
For travel businesses seeking further guidance on how to implement NbS throughout their work, the IUCN NbS Self-Assessment Tool provides a useful guide.
Set-up your Nature-based Solutions Strategy Exploration Call
If you are a business operating in the tourism sector and would like to explore ways to incorporate Nature-based Solutions into your business and you are not sure how to identify your priorities and position yourself for developing a profitable and impactful natural climate solutions strategy, I am offering a 2-hour exploration call, to bring clarity to your NBS strategy and set you off on the right foot. Working with the ForestLink will bring you clarity, a roadmap to move forward, saving you time and money on starting this journey, so that you can incorporate credible NBS initiatives for the benefit of your financial, social, and environmental objectives.
If you would like to learn more about this offering, please write to me and I will send you the information.